I've been working on a mini-scrapbook for Elana's first Iowa State fair trip and came across a profile shot of her from our visit to the Huxley Farmer's Market a couple weeks ago. I decided to skip tonight's page of the State Fair scrapbook and make a quick silhouette instead, using the picture I'd found.
First thing was to cut out Elana's head - this was harder than I'd imagined, because I wanted to get the curls of her hair in back onto the final product. I switched to a razor about halfway through for a bit more fine-detail control.
Next, I laid the photo face down onto the cardstock I'd decided to use, a blue textured piece. After straightening it out so the base of the photo would be level, I traced around the photo. Then, a second cut around with the razor, this time to create the shape in the blue paper.... and I immediately realized I'd have to do change my method.
In my do-over, I traced the outline of the photo onto the
back
of the blue cardstock. This way, if I followed with my razor on the line (as opposed to just inside it) the line wouldn't show on the final piece, and my cardstock copy would be more true-to-shape.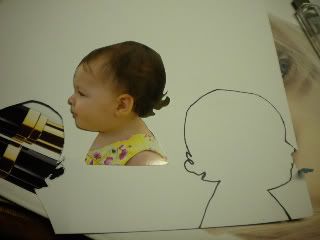 Here you can see the original photo, my first (unsuccessful) attempt at a traced/cut image on the cardstock, and my second attempt in the works - the traced shape on the white/back of the cardstock.
Once the shape was cut out on the blue cardstock, the rest was easy-peasy-meat and cheesy. (ha). Pasted the blue cardstock onto the orange floral paper I'd chosen, and stuck it in the frame! Most useful tool was definitely
my new paper-cutter!
Best 12 bucks I've spent on a craft item, hands down. Want to change an 8"x8" piece of paper into a 5"x7"? NO PROBLEM! Presto changeo.
Forgive the glare on the glass!
I am so happy with such a simple thing!! Hope you like it too. I've seen these done with traditional paper choices, and I've seen wrapping paper used, too. Just some ideas :)